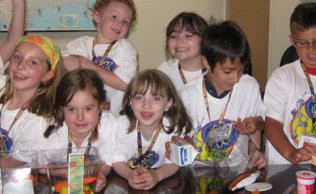 Register Now
Don't miss out on our Award Winning Summer Camps!
REGISTRATION FOR 2019 OPENS IN JANUARY!!!!!
WE'VE GOT SOME SUPER FUN NEW IDEAS BREWING IN THE MAD LAB FOR THIS SUMMER AND ARE EXCITED TO SHARE THEM WITH YOU!
We are excited to announce that we have partnered with Crayola® to provide an Art Camp beginning this year as well. We will be combining art with real-world problem solving activities to spark that creative process which we believe all children possess.
Mad Science Summer Camps have children engaged in scientific explorations that are so much fun that they'll forget that they are learning!
We are proud to be offering outstanding science programming for children in Calgary for 23 years and have become the standard by which other camps are compared. When you register your child in a Mad Science program, you can be rest assured that we provide active, engaging and exciting science programming that has been tested, developed and proven in over 180 international locations.
New camps are created each year and on-line registration begins at the end of January.
Mad Science Camps ....
are award winning.

have 2 highly qualified professional instructors at each location.

offer unparalleled educational entertainment. Children have so much fun & may not realize they are also learning!

are newly researched & developed on a yearly basis with structured lesson plans and hands-on group activities.

include daily take-home projects and a Mad Science T-Shirt.

create opportunities for children to make new friends in a safe, creative and nurturing environment.

inlcude free pre & post care 8:30AM - 4:30PM. *Pre-registration is required.
"Amazing camp, friendly and helpful instructors that seem to really care about what they are doing and it shows and the kids love it. I will put my child in the camp again next year for sure."
"We have already filled in a survey after attending a full day summer camp. I just wanted to say again what a unique and brilliant program you offer!"
"My son said this is the best camp he has ever attended!"
"The camp was fantastic and so different from the standard camps offered everywhere. There was true value and my son loved the experience of learning in such a fun environment."
"
This was the best camp my son has ever attended. The instructors were attentive and kept his interest. He came home each night with a hug smile and many exciting stories. He can't wait for the next time he is in one of your camps."
"He was in 3 week long camps this summer and the Mad Science Camp was absolutely the BEST! He was excited about what he was learning - tired every day and looked forward to getting up to go every morning."