Help
---
Signing up is easy. Just follow the steps outlined below!
Note: Cookies are required to complete registration.
Click on "Register Now"
Search for an activity using the search options
Click on "Select" to view an activity
If you want to register for the selected activity, you will be prompted to sign in or create an account
Create your account
Click on the "Add Child" button to add your children to your account
Click on the checkbox under the "Register" column and if requested, select an after-activity dismissal option
Click on "Register Children" at the bottom of the list to add the registrations to your basket
From the basket, click on the "Checkout" button
Enter your payment information, click on the "Process Payment" button and you're done!
After confirming that the items in your basket are indeed what you wish to purchase (see above), click on the "Proceed to Checkout" button.
Under the "Dismissal" column, please select the option that reflects where the child under your care will be going at the end of his or her Mad Science program: staying at the school, walking home or being picked-up. If a child is being picked up, please specify who will be responsible for picking up the child.  NOTE:  This step is not applicable to lunch Science Clubs 4 Schools.
Verify your billing information.
Select a payment method and fill in the appropriate fields.
Verify your payment information, and then click on the "Process Purchase" button to complete your transaction.
How can I check my order history?
You can check your order history by signing in to "My Profile" and choosing the "My purchases" option under "Order History" or by going directly to "My Purchases" from the menu.
How can I obtain a receipt for any online purchase I've made?

From "My Purchases", click on the "View" link in the "Receipt" column for the order you wish view. An on-screen version of the receipt will be displayed, you can then choose "Printer-Friendly Version" for a version without menus for printing.

 
If this is your first time using Online Registration, you must create a Profile; this is the basic information about yourself needed to process any transaction. Note: If you have already created a profile, you can update this information.
To create your profile, click on the "My Profile" link at the top of the page and complete the "New Customer" area at the right. When you are done, click on the "Sign-Up" button.
Complete the information required on the "Profile (Parent/Guardian)" page and click on the "Create Profile" button at the bottom of the page.
Verify that the information displayed is correct. If you make any modification, be sure to click on the "Update Profile" button at the bottom of the page. If there are no changes required, click on the "Add Children" button to add children to your profile.
Enter the required information on the "Add Child" page and click on the "Submit" button when you are done. You will notice that this child's name has been added to your profile. Add more children as necessary.
This page allows you to view all of the programs in which you have registered. Your Schedule also displays special instructions relevant to your chosen programs (if applicable). 
This page allows you to view those programs for which you have wait-listed a child (or children). These programs were filled to capacity, and you selected to add a child (or children) to an automated waiting list. View "My Waiting List" to check for any change in availability. Spaces that have become available will be displayed in the "Status" column, together with a link "OPEN: Register now!" To register, click on this link, and follow the provided instructions in order to complete your purchase.
"My Purchases" is a listing of the purchases that you have made on this site, and is available for viewing after signing in. For each purchase, you will see the order number, program, date of purchase and total. You may view individual receipts by clicking on the "View" button. Note: If you wish to print a copy of your receipt, clock on the "Printer-Friendly Version" button.
Click on the "Privacy Policy" link at the bottom of the page to learn about our Privacy Policy.
Call us at 403-263-4140 or send us an email at madscsab@telusplanet.net.
Once signed-in, you will remain signed-in until you close your browser or click on "Sign Out." When you are ready to leave the site, be sure click the "Sign Out" at the top of the page to ensure that your information will not be available to other users of the same computer.
The Mad Science Group (franchisees inclusive) uses "cookies" to keep track of your current shopping session, to personalize your shopping experience, and to allow you to access your shopping cart at any time.
Mad Science does not automatically log information about you or your computer, such as your IP address, browser type, or access times.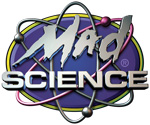 Sparking Imaginative Learning in Southern Alberta Since 1996